Stahl Paletten Lagerregale
Die Breite des Korridors zwischen den Regalen hängt von den im Lager verwendeten Transportmitteln ab. Es gibt keine Begrenzung der Höhe eines solchen Regalsystems.
Es gibt die Möglichkeit, alle Arten von Paletten mit verschiedenen Größen und Gewicht zu lagern;

Die direkte Kontrolle jeder Palette führt dazu, dass die Paletten in gutem Zustand bleiben;

Es kann mit Longspam-Strahlen zur manuellen Warenauswahl kombiniert werden.
Die Installation dieser Art von Stahl Palettenlagerregalsystem doesn `t Spezialisten benötigt, es` s genug nach Einbauanleitung zu installieren.
Das Back-to-Back-System ist mit den meisten Arten von Handhabungsgeräten und Gebäudestrukturen kompatibel. Dadurch können verschiedene Speichermöglichkeiten geschaffen werden.
Spezifikationen:
Loading Capacity /layer

Usually from 500kg to 5000kg

Also can design according your requirement

Specification of rack

Length

From 1500mm to 3900mm

Depth

From 800mm to 1800mm

Height

From 1800mm to 12000mm

Note: Also can design and produce according to your special requirements

Upright specification

88*66*1.5mm

88*66*1.8mm

88*66*2.0mm

100*80*2.0mm

100*80*2.5mm

120*80*2.0mm

120*80*2.5mm

140*80*2.0mm

140*80*2.5mm

Beam Specification

88*40*1.5mm

108*40*1.5mm

125*45*1.5mm

145*50*1.5mm

165*50*1.5mm

165*50*2.0mm
Eigenschaften:
1.Paletten-Lagerregalsystem ist ein Materialhandhabungs- Lagerhilfesystem , das eine effiziente Nutzung des Lagerraums für palettierte Ladungen ermöglicht und das am häufigsten verwendete Palettenregalsystem ist, das heute verwendet wird.
2.Palettenlager-Regalsystem ermöglicht die Lagerung von Materialien in horizontalen Reihen mit mehreren Ebenen.
3.Smaco führt eine breite Palette von Palettenregalkomponenten und kann ein selektives Regalsystem entwickeln, das auf Ihre spezifischen Platz- und Budgetanforderungen zugeschnitten ist.
4.Our Palettenlager Montagesystem ist kompatibel mit allen Arten und Größen von Paletten und kann mit jeder Art von Handhabungssystem verwendet werden.
5.Smaco empfiehlt ein Palettenregalsystem für Kunden, die ein kostengünstiges Lagersystem mit hoher Durchsatzrate und FIFO-Bestandsverwaltung für viele Artikel und niedrige Palettenmengen einführen möchten.
Weitere nützliche Informationen:
Zubehör: Wir liefern notwendige Komponenten, wie zB Horizontal-, Diagonalstrahl und Schraube.
Verpackung: Luftpolsterfolie oder nach Kundenwunsch
Zahlung: T / T, L / C am Anblick, westlicher Anschluss
Produktionskapazität: 2000 Tonnen / Monat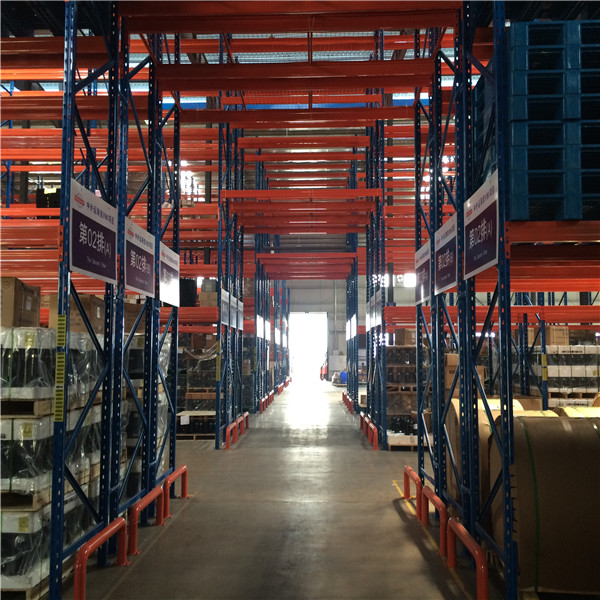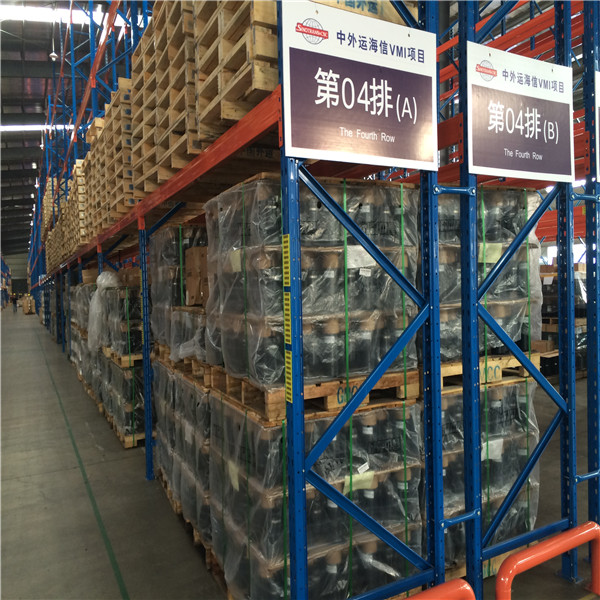 Zubehör Zeichnung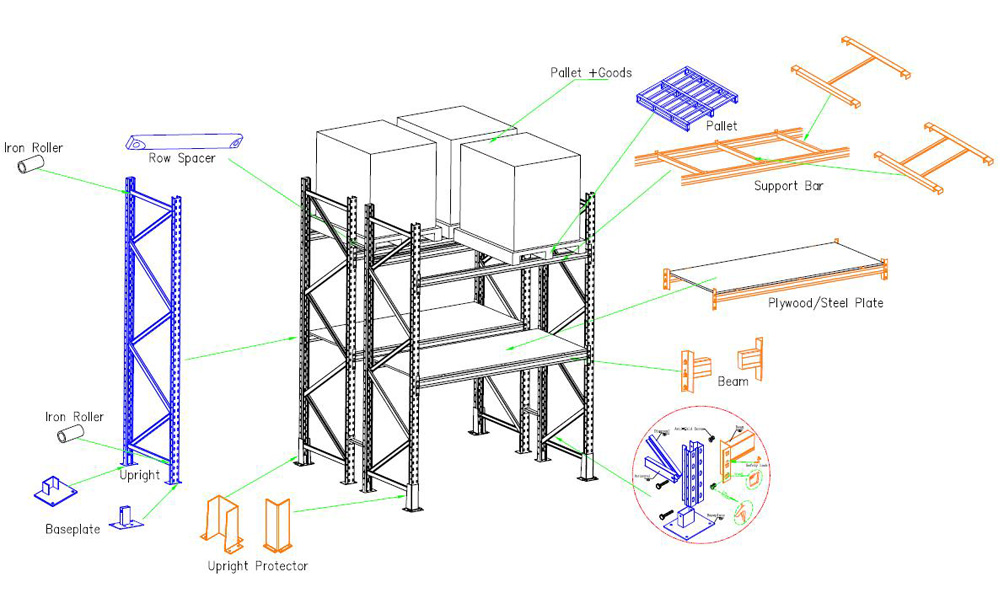 Montagezeichnung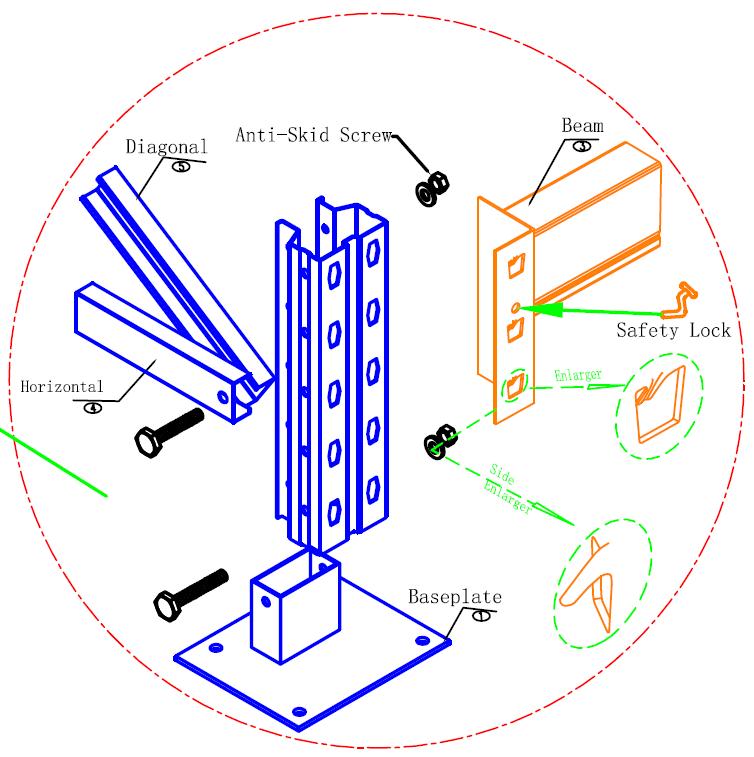 Bitte teilen Sie uns die aufgeführten Informationen in Ihrer Anfrage für ein schnelles Angebot mit:
1) AUTOCAD Zeichnungen (wenn nicht verfügbar, können wir zur Verfügung stellen). Wir können Ihr Regalsystem nach Ihren Wünschen gestalten.
2) Größe Ihres Lagers.
3) Breite, Tiefe der Regale.
4) Höhe des Regalsystems.
5) Wie viele Buchten möchten Sie?
6) Wie viele Schichten möchten Sie?
7) Ladekapazität jeder Schichten.
8) RAL-Farbe, die Sie wünschen.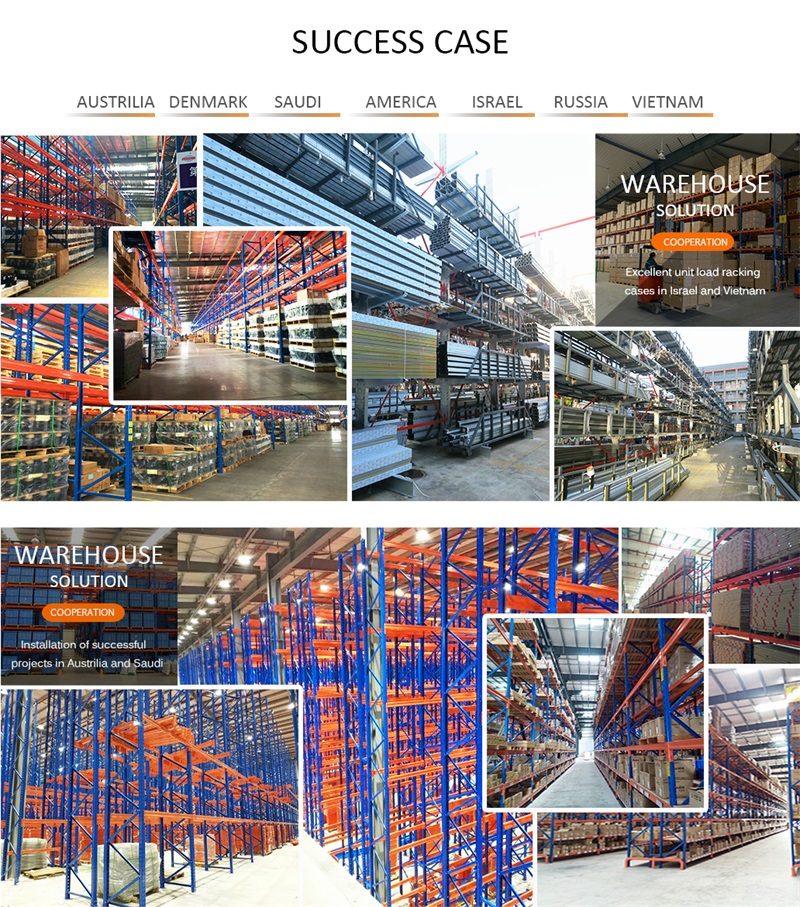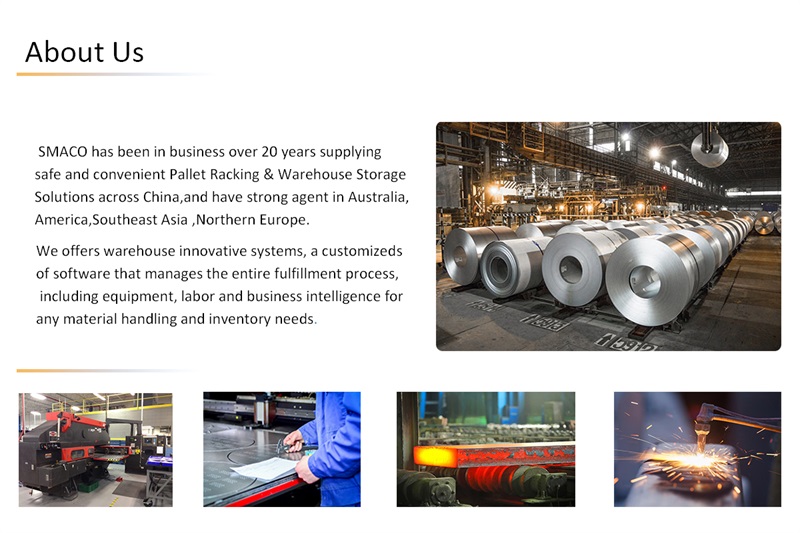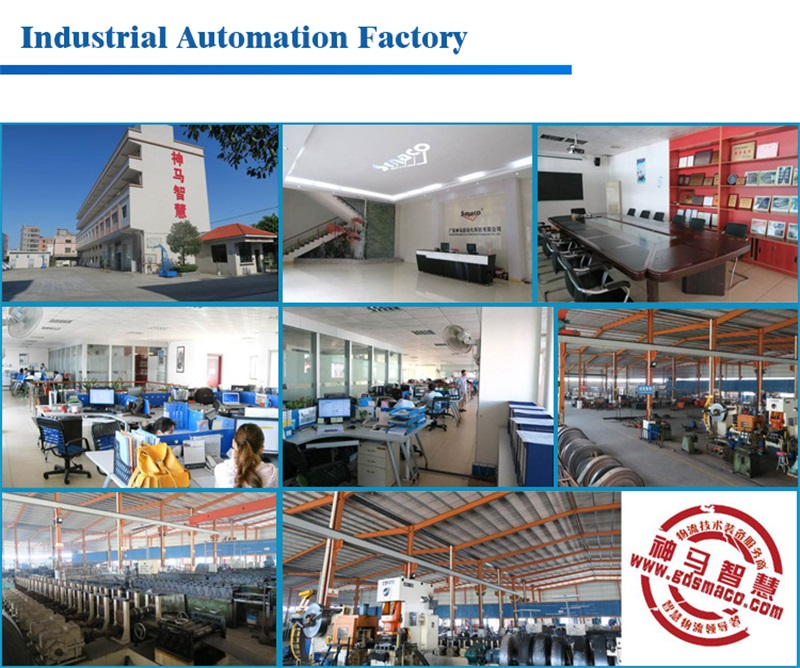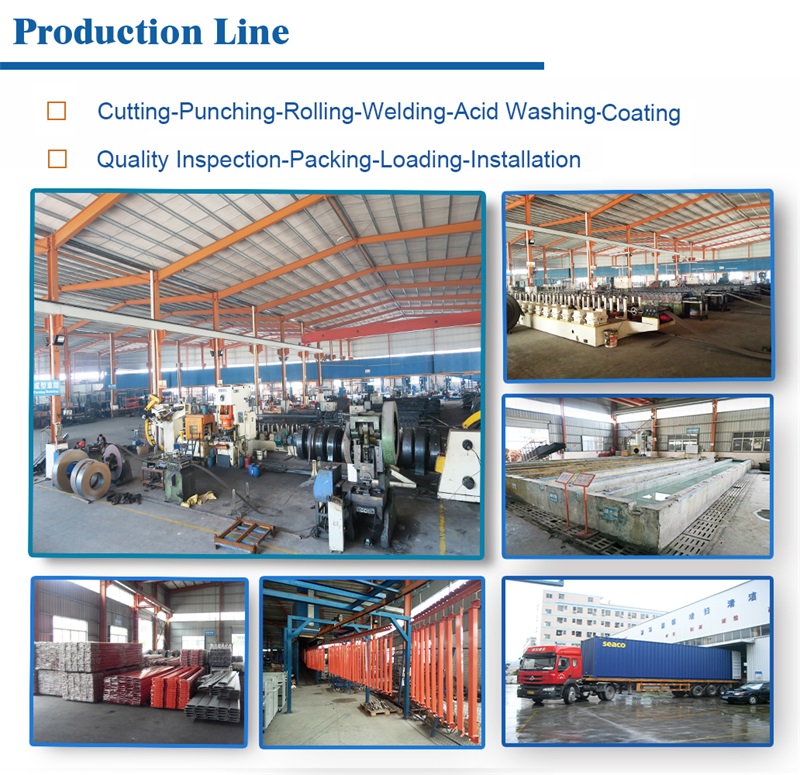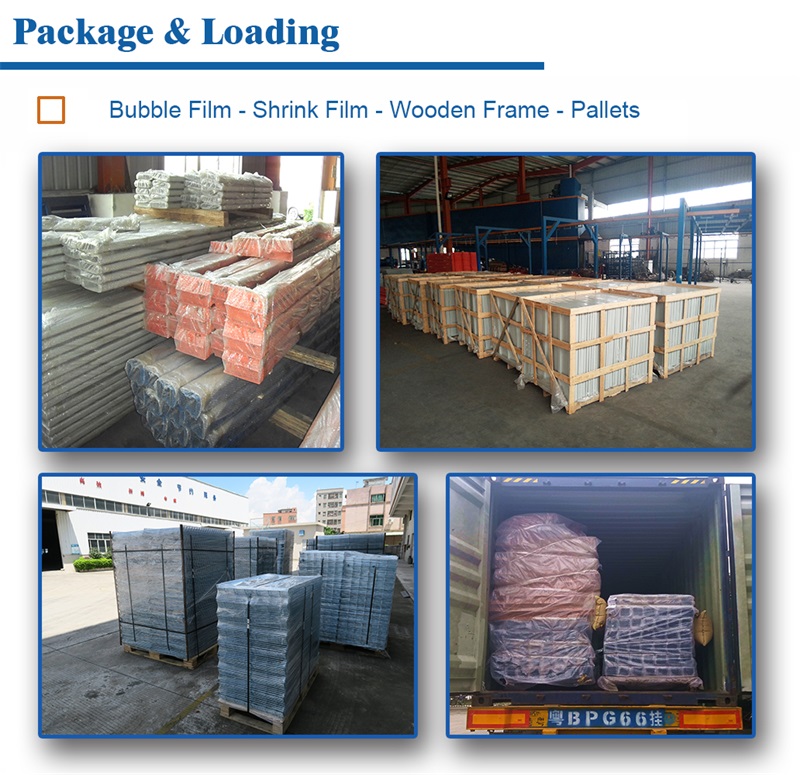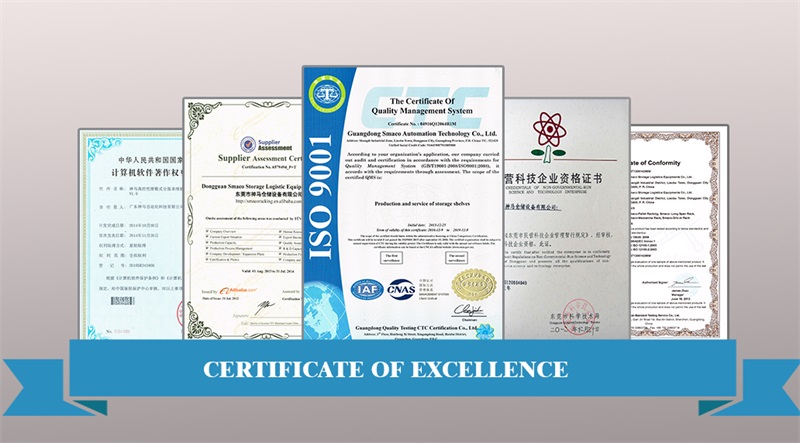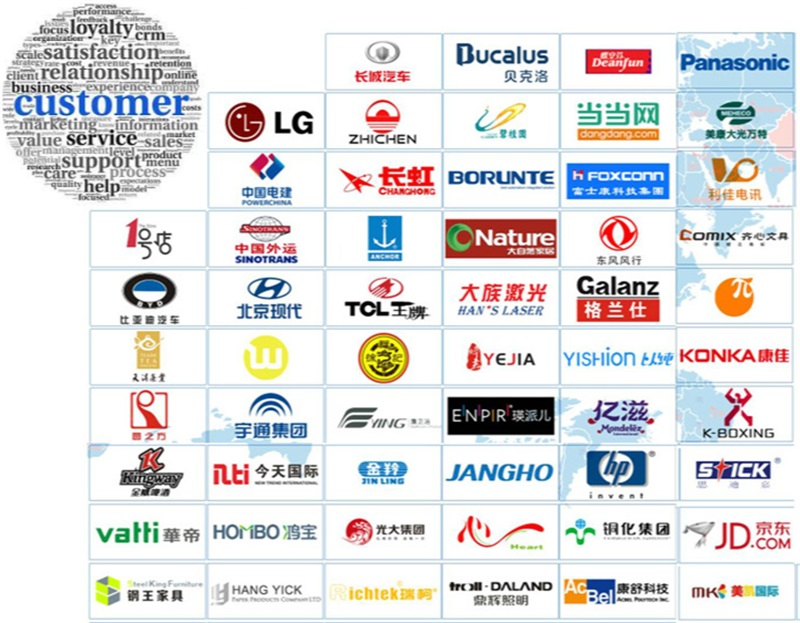 Produktgruppe : Palettenregal